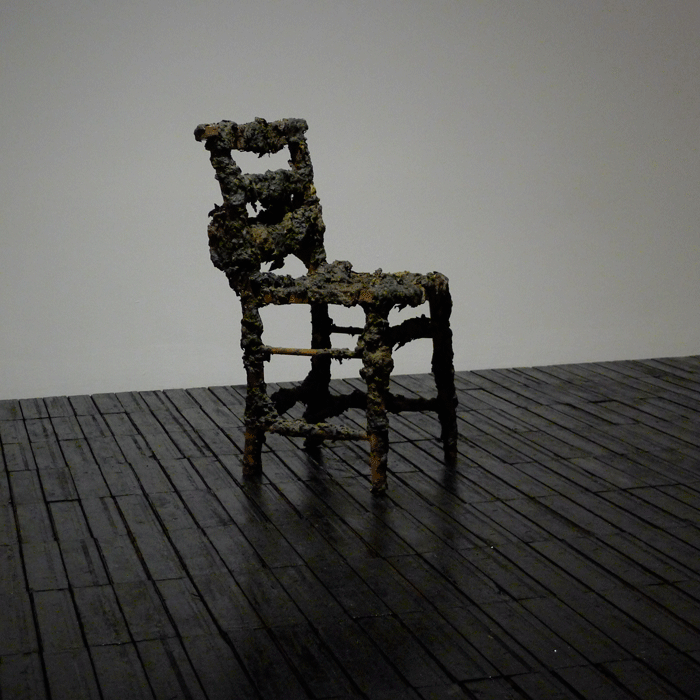 Chair, 2011 (1996)
Wooden chair, papier mache, PVA, acrylic paint, hardwood parquet floor, tar
Dimensions variable
The Apparatus: Arnolfini 50th Anniversary Programme

www.arnolfini.org.uk

Throughout 2011, to mark our 50th anniversary, Arnolfini will be exploring a year-long theme entitled The Apparatus. This series of 'experimental blockbusters' will focus on the conditions of the art world today, particularly its systems of belief and valuation, its role within society, and its relationship to the wider political economy. The Apparatus is about the 'makings of' artists, of artworks, of institutions, and of a cultural infrastructure.


Museum Show
24 September–20 November 2011

Including: Danger Museum, Davis Lisboa Mini-Museum, Intuitive Galerie,
La Galerie Légitime, MER Paper Kunsthalle, Moon Museum, Museo Aero Solar, Museo Salinas, Museum of American Art, Museum of Conceptual Art, Museum of Contemporary African Art, Museum of Failure, Museum of Franco Besaglia, Museum of Incest, Museum of Learning Things, Museum of Modern Art Syros, Museum of Mott Art inc., Museum of Non-Participation, Museum of Ordure, Museum of Projective Personality Testing, Museum of Revolution, Museum of Safety Gear for Animals, Museum of Television Culture, Palestinian Museum of Natural History and Humankind, The Portable Museum (La Boîte-en-valise), Victoria and Alferd Museum…

One of the most curious tendencies in modern and contemporary art has been that of museums created by artists. Museum Show will be a large-scale exhibition of approximately 40 museums—a museum of museums—displaying this comprehensive selection of highly idiosyncratic, semi-fictional institutions. It will be the first exhibition to chart this particular tendency in contemporary art.