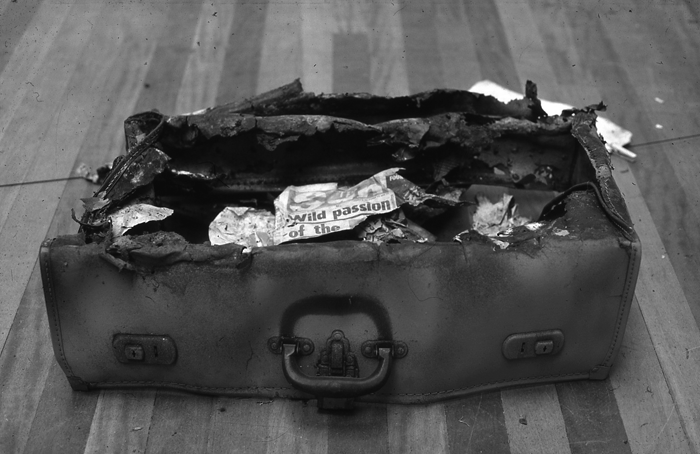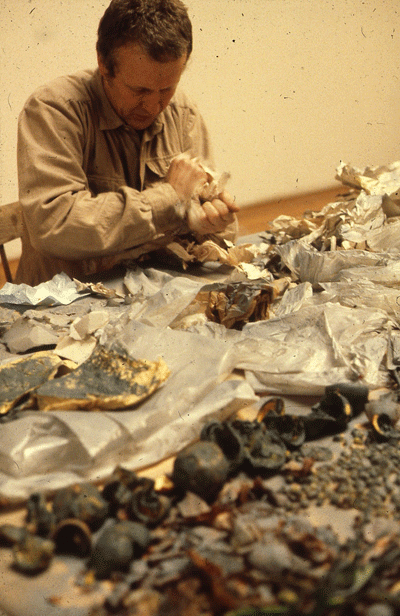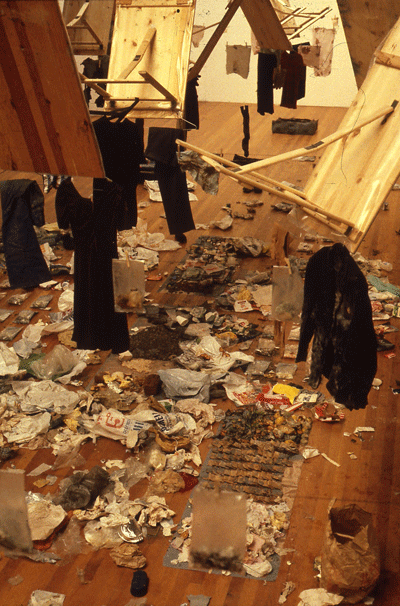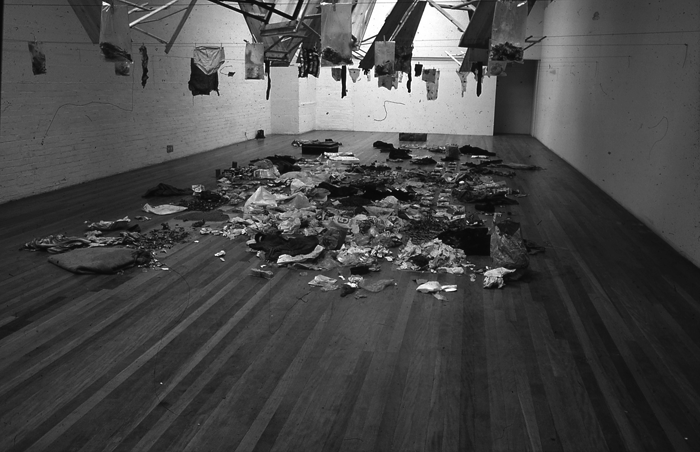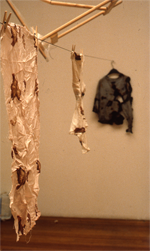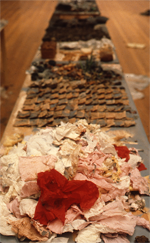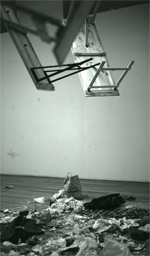 Please go to the Text section for the related document, 'Three Cases Suitable for Rottweil'.
Retrospective, ICA, London 1981
Duration of performance and installation: 30 days
This was part of a larger project, at that time uncompleted and named as The Georgiana Collection. I lived in Georgiana Street London NW1. At the corner of the street was a piece of wasteland covered in rubbish. I had watched a cardboard suitcase slowly disintegrate over an 18 month perod which gave me the idea for this work.
At the ICA I placed two local maps, one including Georgiana Street and the second including the ICA, the Buckingham Palace and the Houses of Parliament. By implication comparing the power relations between the two. On the opening night I had thirty wooden tables and the decayed cardboard suitcase in the space. Not so conducive to a successful opening. The opening was to take place on the last day. Starting the next day and for the next 29 days one table a day was hung in the air above head height. And every day I selected one bag of rubbish which had been thrown on to the waste ground.
My purpose was to examine and categorise items found in each bag and place them on the tables. But as the number of tables provided for the purpose decreased by one each day and the number of bags examined increased each day, there came a point when there was insufficient table space, and so other means of ordering materials had to be found. On the thirtieth day all the tables hung in the air and all the materials lay on the floor under the tables with the exception of clothing which were hung from the tables.
The air conditioning created air flows in which the clothes gently gyrated suggesting a kind of slow moving dance. Tables represented institutional order, clothing the human social level, and the material detritus what is used in living. Stuart Brisley
Stuart Brisley